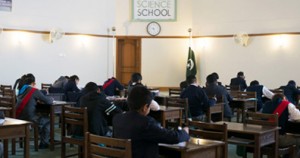 In the context of The Science School, please note:
There are two School Terms. First, from August/ September through December. Second, from January through June.
Specified class work, home work, course work, project work, and research work, will be assessed. Total marks will be cumulated to 50% for each term.
Term Examination marks will also be cumulated to 50%. Each term total will be out of 100; 50% being contributed by the Term Examination.
End-of-year reports will show the Second Term formative assessment, and Term Examination marks, along with total aggregate of both the Terms.
Parents will be informed regularly about students' performance through written reports, and parent-teacher meetings.
Parents can also request the School to arrange for a meeting with their child's teachers for a discussion about the child's achievement in school.
The purpose of assessment is not just to prove but to improve and therefore, The Science School will provide both students and their parents opportunity to reflect upon the work carried out and discuss options for further development.
In keeping with the requirement of Pakistan's Scientific Organizations for a dynamic, investigative and purpose led practice of Science to solve the critical problems and meet the challenge of the defen

c

e of Pakistan, The Science School plans to follow these r

o

u

t

es:

Prepare students for high standard of performance in O and A level

and IGCSE

examinations.
Provide additional opportunities for examinations on subjects such as Design and Technology , Additional Mathematics, Geography and languages such as Arabic and Chinese.
Provide tutorial support in School career counseling to choose subjects.

Career counseling to choose subjects.

Preparation for SAT and other National Tests.
Note: More information regarding Assessment will be available at the School Office.