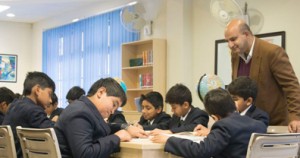 We are responsive to the needs of learners in our Pakistani environment. Formative assessment guides student development, identifying challenges and support. The School has built-in tutorial programmes where its teachers and students develop personal learning programmes, carry out extension work, and benefit from collaborative learning and feedback. Students learn collectively or on individual basis when deemed appropriate and in consultation with parents and other caregivers.
A daily session in the last double period after lunch is set for study review, except for Friday, and one day for sports. Thus, students are provided an opportunity to review their days learning and attend extension, study, or support sessions as needed.
The Science School believes in the importance of developing understanding as well as opportunities for practice in the mastery of skills.